Welcome to Cantine Dell'Angelo
in the heart of the centre of old Nottingham
The Barolo Room Cellar exclusive to the L'Astemia Pentita Vineyard
in the heart of Barolo Cannubi Land
Join us in Bar Gigi a modern Italian restaurant
located on the second floor
One of Nottingham's Most Iconic Buildings…
In 2017 by investigating rising damp in the boutique through an outside hatch, we discovered the old Flying Horse cellars dating back to the late 14th century.
After weeks of clearing and cleaning we found a passage under the cellar floor and by removing 700 tonnes of rubble, over a 5 year project, we unveiled 100 meters of medieval caves dating back to approximately 1100 to 1200AD. Well before the Flying Horse was built.
We proudly restored and created one of the most unique and exciting venues, unlike any other existing in the uk. We now have over 5 floors of approx 1000 sq meters  over 10,000 sq foot.
On the 4th floor you will find Bar GiGi, a modern Italian restaurant and on the ground floor GiGi Bottega, a designer boutique.
Under the ground floor on -1 floor you will find Cantine Dell'Angelo – this translates to Angel Cellars. The cellars have the capacity to hold 80,000 bottles of wine. With a perfect all year round, natural temperature at 12 to 14 degrees and 70% humidity it is the perfect space in which to age wine, with many individual private cellars and private dining spaces.
Below the cellars on -2 floor our amazing caves span to 100 meters with Champagne exclusive caves, as well as two Champagne cellars holding up to 1000 bottles of French labels with private caves and private dining.
Join our journey and the history of this amazing historical building.
Browse 100's of photos and the full 5 year project from 2017 to date and read the full story of our discovery and the birth of Cantine Dell'Angelo here>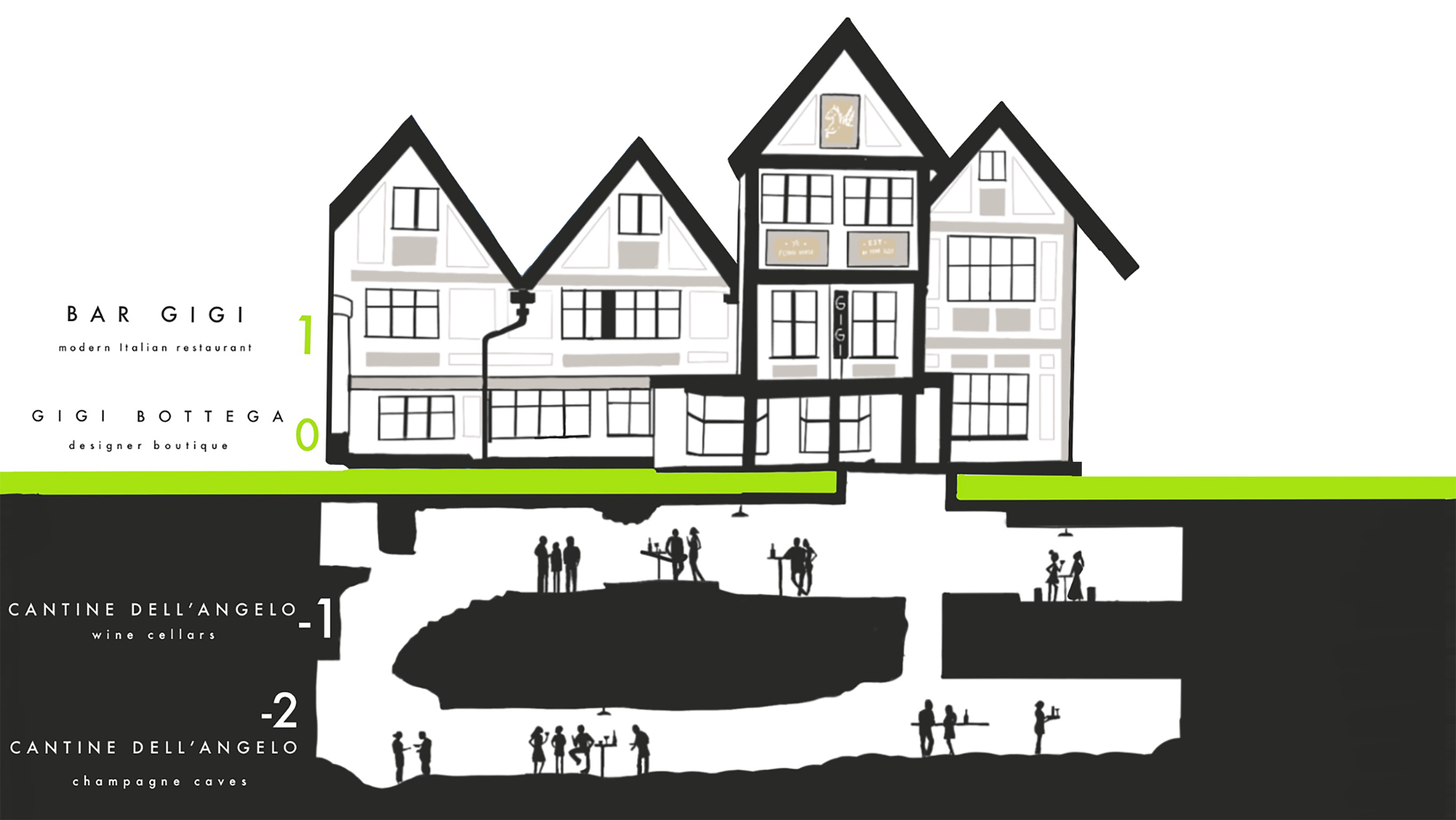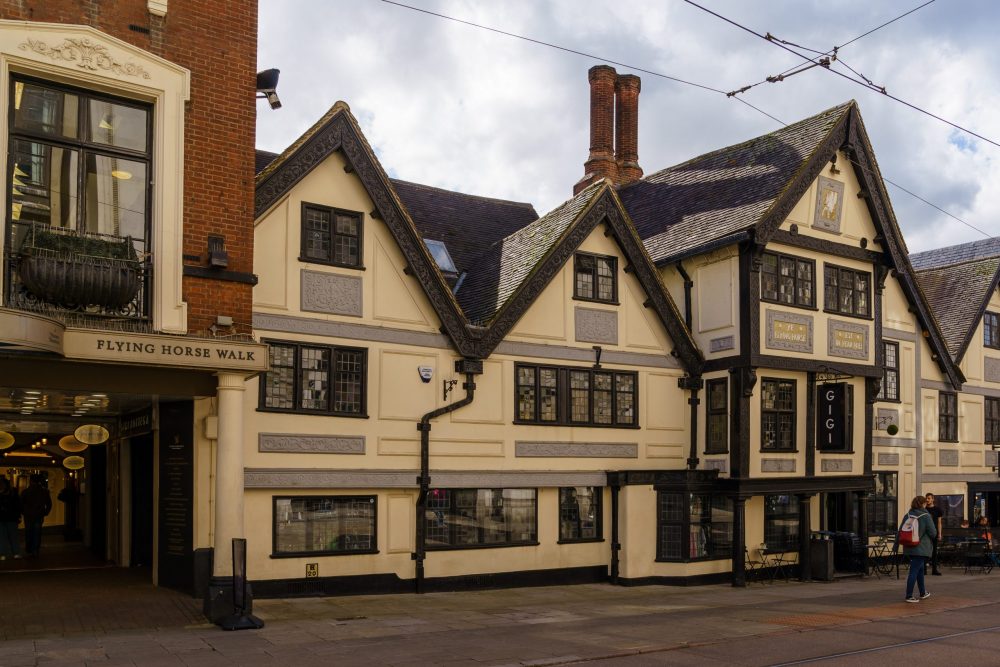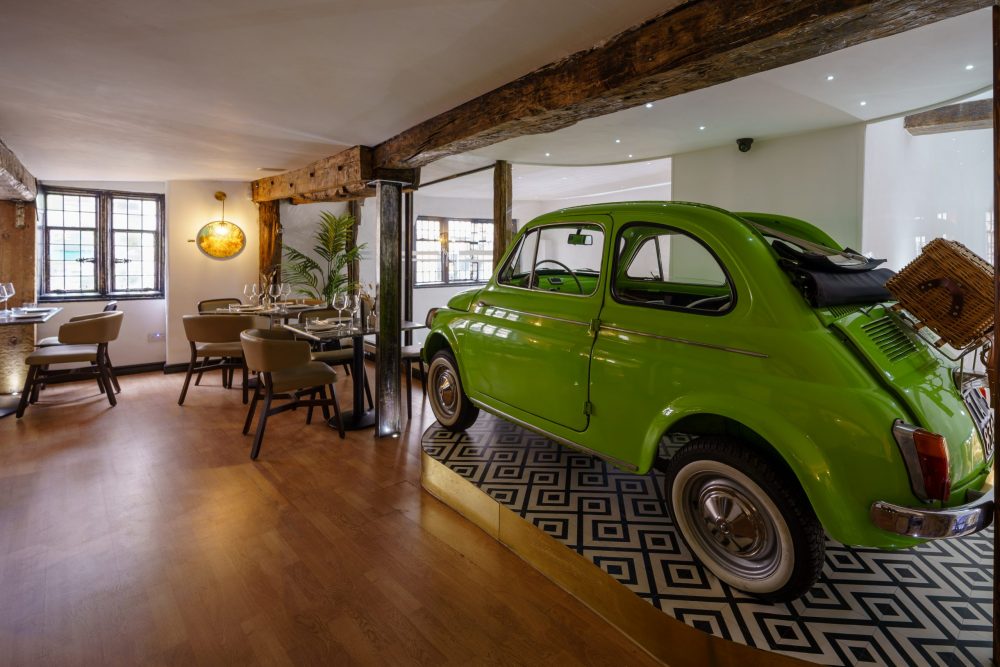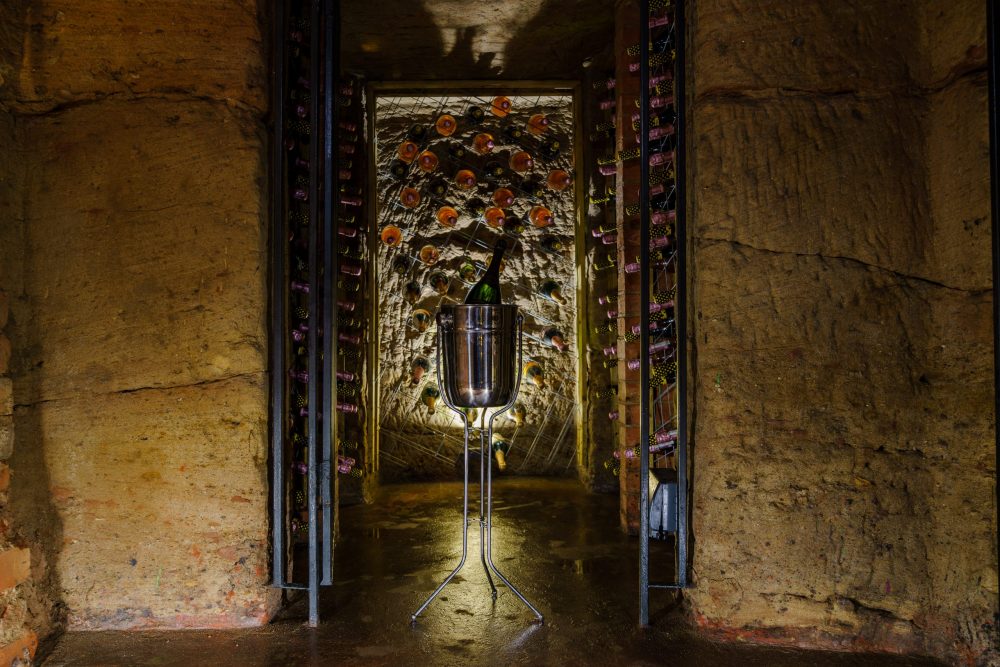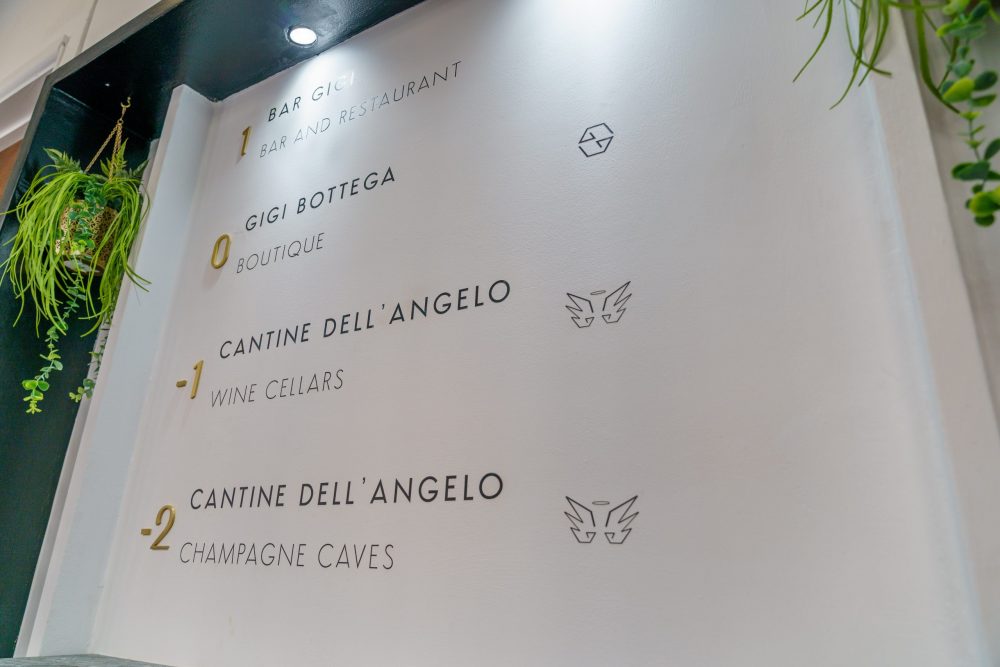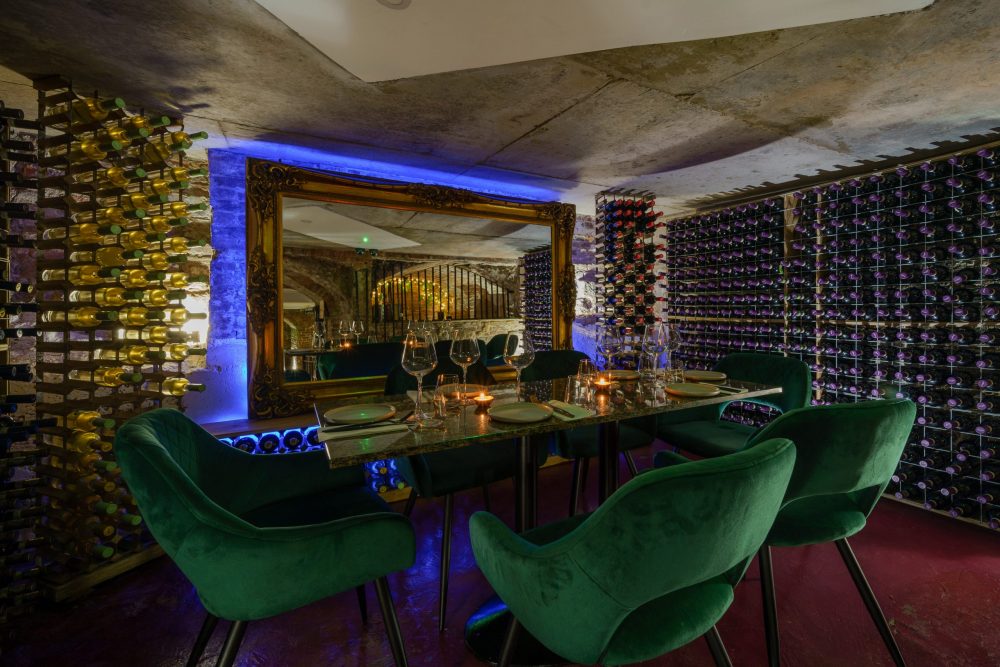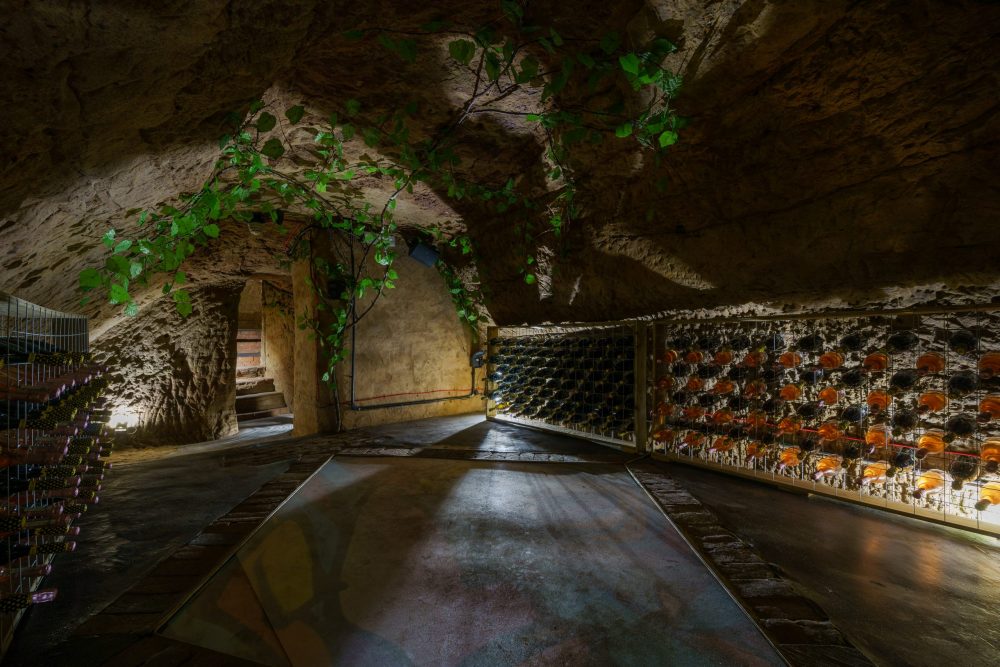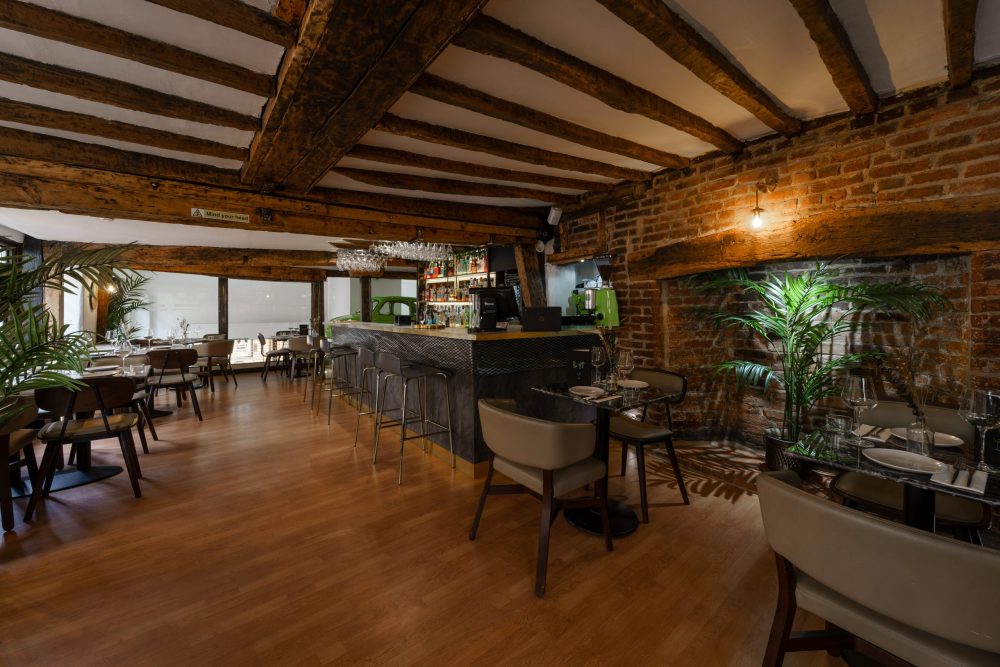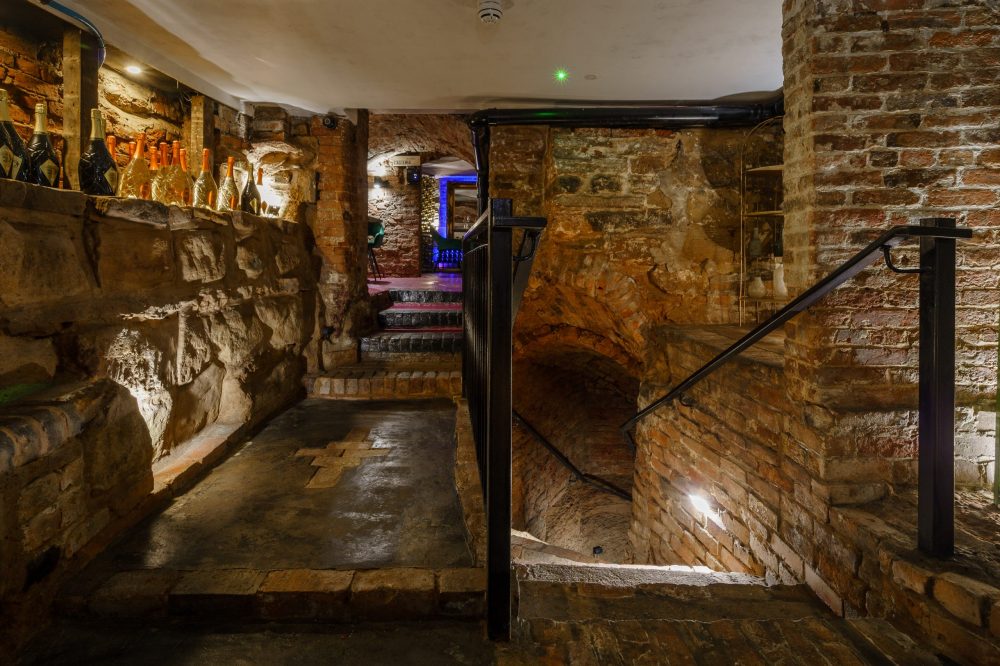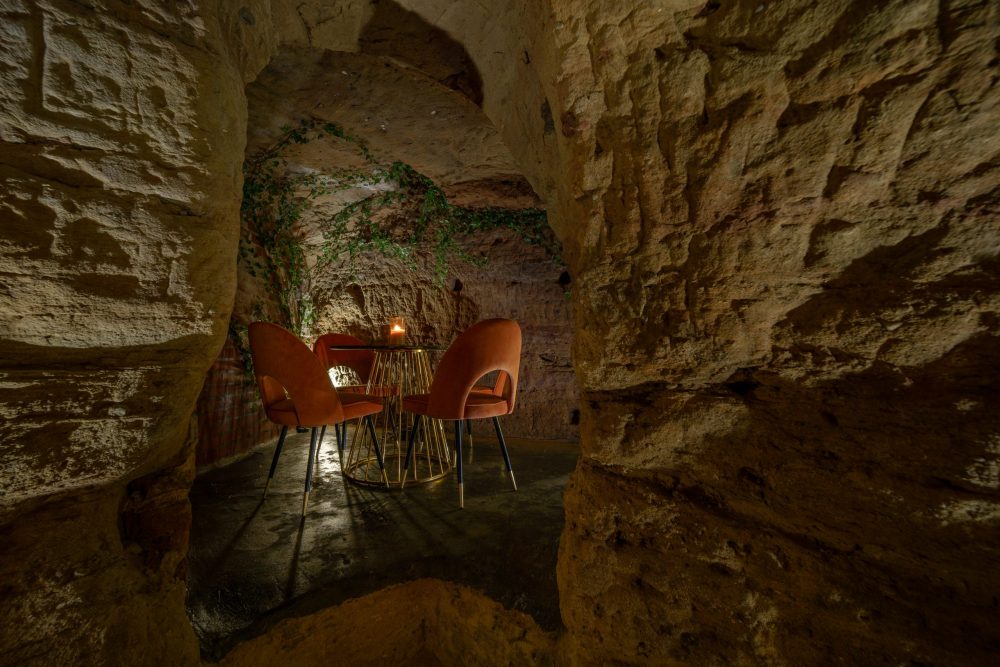 The Cantine Dell'Angelo wine cellars offer a regional Italian wine list from the north of the alps to the south Mediterranian regions.
Our ethos is to offer wines from independant family owned vinyards, which have been in the family for generations. They put their heart and soul in to growing the grapes and processing them in to the final stage including labelling the bottles – all done in house.
So that we are able to verify the true provenance of the grape and quality this has only been made possible after travelling from the north to the south of Italy, sourcing and personally meeting with all of our producers.
Many times being there watching the whole process and building personal relationships with our producers. This also made it possible to have full exclusivity on most of our wines in the UK.
Our ethos towards only providing the best quality wines, is also apparent in our Italian modern restaurant where we only serve the very best quality cuisine, made with the freshest of ingredients.